All 'Confederate-related Paraphernalia' Should Be Removed From Marine Bases, Commandant Directs
Philip Athey / Military Times
Marine Corps Commandant Gen. David Berger wants the Corps to remove all "Confederate-related paraphernalia" from Marine bases.
David Berger, Commandant General of the Marines, prioritized for "immediate execution" the banishment of objects representing the Confederacy in response to a congressional hearing on the rise of extremism in the military, according to Military.com.
The directive was part of a memo sent by Berger to the assistant commandant of the Marine Corps Gen. Gary Thomas, a Marine official told Marine Corps Times Wednesday.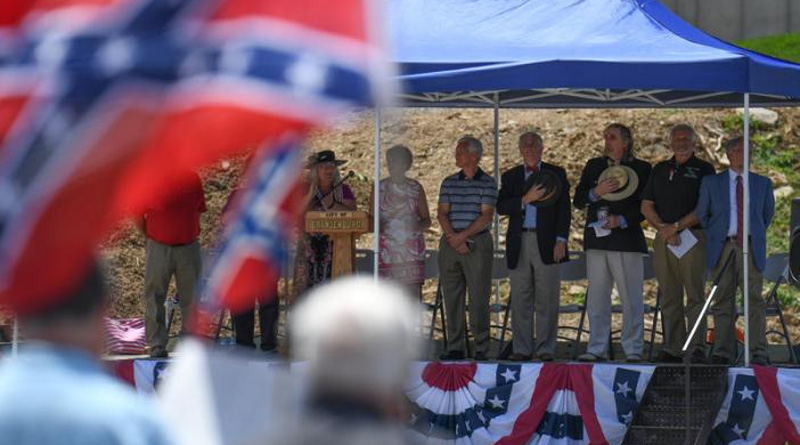 The memo included several other items for "immediate action," including directives on increased gender integration and potential changes to the Corps' maternity leave policy, which Berger announced on Friday through Twitter.
"Last week, the Commandant of the Marine Corps directed specific tasks be reviewed or addressed by Headquarters Marine Corps staff," Marine spokesman Maj. Eric Flanagan told Task & Purpose Wednesday. "Many of the tasks were published on Twitter Friday. Other tasks not published previously are mostly administrative matters."
In recent years tensions over the Confederate flag and symbols have heightened. Activist groups have called for the removal of Confederate monuments on government property, claiming that the U.S. government should not celebrate leaders of a rebellion meant to save slavery.
Others argue that taking down monuments is erasing history ? and is muting and forgetting the hard-fought Civil War battles between the North and the South.
The Army currently has 10 installations named after Confederate leaders, Army Times previously reported, and the Navy has had several ships named in honor of the Confederacy, including the still active guided-missile cruiser Chancellorsville.
Political Power for European Americans!
European peoples should organize and advance our own interests just like every other group. Join our fight for Heritage and Identity!
The American Freedom Party (AFP) supports the right to keep and bear arms. Emancipate yourself from the dinosaur Democrat and Republican parties. Join a National Party that puts America first, The American Freedom Party!

Support American Freedom Party growth and our heritage of Western civilization! The American Freedom Party is the only party that addresses issues concerning European-American communities and all Americans. Send $10, $20, $50, $100, or any contribution you can or click here:


American Nationalism! Globalism NO! America First! Not America Last! Freedom from Republicans. Freedom from Democrats. American Freedom Party! Political Power for European-Americans!
European-Americans should push back! European-Americans should abandon the Republicans and Democrats. Change your party allegiance to the American Freedom Party. A Nationalist Party that shares the customs and heritage of the European American people. We need a Nationalist Party interested in defending our borders, preserving our language and promoting our culture. The American Freedom Party is not beholden to foreign governments, special interest groups, nor Wall Street. The American Freedom Party is for America First!
---